Lately I've been playing with the local Dungeons & Dragons Adventurer's League again. It's been fun dusting off the cobwebs of my character Scavo and remembering what kind of fun loot he found on his journeys. However, the magic item certificates provided with the adventures aren't the prettiest. So I tried my hand at creating something nicer!
After searching online for some examples, I found DM Paul Weber's blog, where he shares all kinds of neat D&D resources for Dungeon Masters. He has some excellent item cards.
Inspired by these cards, I came up with the a card template for my own magic items. The cards have an accompanying back, which lists the adventure and has a place for the original owner to write their name and character name. I plan on using these for as certificates for any AL adventures I DM as well.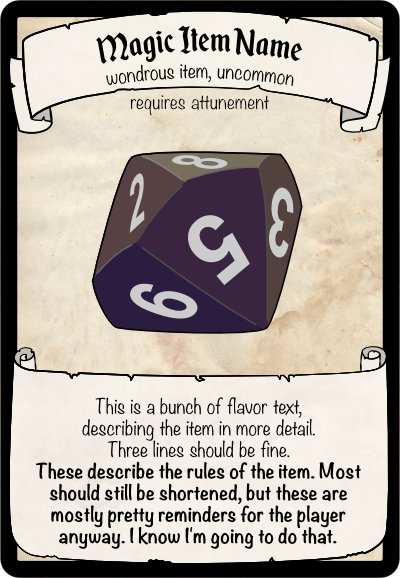 For anyone that would like to create their own versions, you can find blank versions of the cards here;
The templates above are all licensed under CC-BY-4.0, so feel free to use them however you like. They were created with the following resources (all either public domain, licensed for reuse or licensed for non-commercial personal use);
'Noteworthy' font, supplied with macOS.
And if you're wondering how Scavo's own magic items turned out, here's a peek at them.
Update: After some feedback from David Flor (@BrainClouds), I decided to create more standard sizes for the card templates. All the templates are now available in poker and tarot sizes, for easy printing at your local games printer!
Update 2: After some messing around with my printer (which has… quirks…) I got my cards printed! They look amazing!